Minta Medical have designed and manufactured high quality CE Marked RF Electrodes since 1988. These include a comprehensive, state of the art, range which are compatible with Neurotherm, Radionics, Baylis (Halyard), Cosman, Smith & Nephew, Stryker, Owl (Diros), Top, Apro Korea, Abbott and other RF Lesion Generators.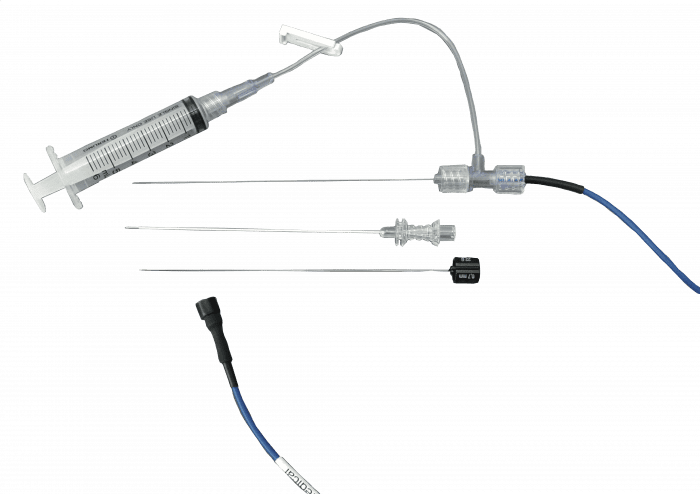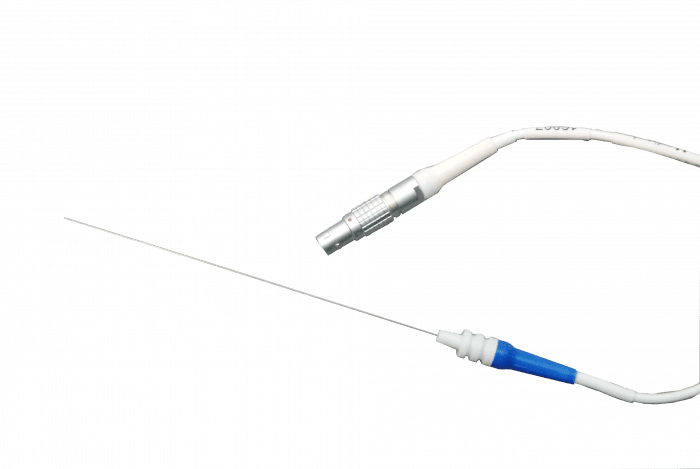 Minta Medical also offers a range of Intermediate (Adapter) Cables to connect to the RF Generators and a confidential RF Electrode design and manufacturing service for RF Generator manufacturers.
Minta are a progressive company, continually improving their designs and manufacturing capabilities. All Minta products are designed and manufactured at their own purpose built UK site to ensure complete quality control.
Minta Medical's expertise and experience has been vital in the role of being actively linked with Pain Management Research Centres to assist with new innovative devices.
Minta Medical are committed to providing excellent service and loyalty for their customers. Minta also ensure cost savings for new customers when converting to using Minta® RF Electrodes.
Minta developed and produce innovative devices, the original neurotherm electrodes.
Cordotomy
| wdt_ID | Catalog No. | Description |
| --- | --- | --- |
| 1 | CoM-Max-T | Disposable Max-T RF Cordotomy Electrode Kit with 1 Special Cannula (*levin type) |
| 2 | CoM-Max-T2 | Disposable Max-T RF Cordotomy Electrode Kit with 2 Special Cannula (*levin type) |
Reusable RF Probe/Thermocouple
| wdt_ID | Catalog No. | Description |
| --- | --- | --- |
| 1 | CoM-Ryan-50 | Reusable RF Electrode 5cm |
| 2 | CoM-Ryan-100 | Reusable RF Electrode 10cm |
| 3 | CoM-Ryan-150 | Reusable RF Electrode 15cm |
| 4 | CoM-RyanFlex-50 | Reusable RF Electrode 5cm (nitinol) |
| 5 | CoM-RyanFlex-100 | Reusable RF Electrode 10cm (nitinol) |
| 6 | CoM-RyanFlex-150 | Reusable RF Electrode 15cm (nitinol) |
Disposable RF Probe/Thermocouple
| wdt_ID | Catalog No. | Description |
| --- | --- | --- |
| 1 | CoM-Gabi-SP-50L | Disposable RF Electrode 5cm box of 10 (*bsci cosman,top,avanos,epimed,spectra) |
| 2 | CoM-Gabi-SP-100L | Disposable RF Electrode 10cm box of 10 (*bsci cosman,top,avanos,epimed,spectra) |
| 3 | CoM-Gabi-SP-150L | Disposable RF Electrode 15cm box of 10 (*bsci cosman,top,avanos,epimed,spectra) |
| 4 | CoM-Gabi-50L | Disposable RF Electrode 5cm box of 10 (*neurotherm, abbott) |
| 5 | CoM-Gabi-100L | Disposable RF Electrode 10cm box of 10 (*neurotherm, abbott) |
| 6 | CoM-Gabi-150L | Disposable RF Electrode 15cm box of 10 (*neurotherm, abbott) |
Disposable GabiLok Electrode / Injector Kit
| wdt_ID | Catalog No. | Description |
| --- | --- | --- |
| 1 | CoM-GabiLok-50L | Disposable GabiLok 50L Kit Electrode / Injector Kit 5cm |
| 2 | CoM-GabiLok-100L | Disposable GabiLok 100L Kit Electrode / Injector Kit 10cm |
| 3 | CoM-GabiLok-150L | Disposable GabiLok 150L Kit Electrode / Injector Kit 15cm |
Intermediate Cables & Wires for RF Generators
| wdt_ID | Catalog No. | Description |
| --- | --- | --- |
| 1 | CoM-Gabi-NS | Gabi-NS, TC Cable, 20cm, for Minta Disposable Electrode to Neurotherm |
| 2 | CoM-Gabi-CS | Gabi-CS, TC Cable, 20cm, for Minta Disposable Electrode to Cosman |
| 3 | CoM-Gabi-RS | Gabi-RS, TC Cable, 20cm, for Minta Disposable Electrode to Radionics |
| 4 | CoM-Gabi-B14 | Gabi-B14, TC Cable, 20cm, for Minta Disposable Electrode to Baylis 14 pin |
| 5 | CoM-Gabi-B4 | Gabi-B4, TC Cable, 20cm, for Minta Disposable Electrode to Baylis 4 pin |
| 6 | CoM-Gabi-ST-ALL | Gabi-ST-ALL, TC Cable, 20cm, for Minta Disposable Electrode to Stryker |
| 7 | CoM-Gabi-SNS | Gabi-SNS, TC Cable, 20cm, for Minta Disposable Electrode to Smith & Nephew |
| 8 | CoM-Gabi-OWA | Gabi-OWA, TC Cable, 20cm, for Minta Disposable Electrode to Owl |
| 9 | CoM-Gabi-AK | Gabi-AK, TC Cable, 20cm, for Minta Disposable Electrode to Apro Korea |
| 10 | CoM-Max-NT | Max-NT, TC Cable, 20cm, for Minta Cordotomy Electrode to NeuroTherm 1100 |
| 11 | CoM-Ryan-C | Ryan-C, TC Cable, 20cm, for Minta Reusable Electrodes to Cosman |
| 12 | CoM-Ryan-R | Ryan-R, TC Cable, 20cm, for Minta Reusable Electrodes to Radionics |
| 13 | CoM-Ryan-B14 | Ryan-B114, TC Cable, 20cm, for Minta Reusable Electrodes to Baylis 14 pin |
| 14 | CoM-Ryan-B4 | Ryan-B4, TC Cable, 20cm, for Minta Reusable Electrodes to Baylis 4 pin |
| 15 | CoM-Ryan-ST-ALL | Ryan-ST-ALL, TC Cable, 20cm, for Minta Reusable Electrodes to Stryker |
| 16 | CoM-Ryan-SNS | Ryan-SNS, TC Cable, 20cm, for Minta Reusable Electrodes to S&N |
| 17 | CoM-Ryan-OWA | Ryan-OWA, TC Cable, 20cm, for Minta Reusable Electrodes to Owl |
| 18 | CoM-Ryan-AK | Ryan-AK, TC Cable, 20cm, for Minta Reusable Electrodes to Apro Korea |