Procedure Guides
The Procedure Technique Series provides step-by-step guidance from prominent physicians on performing important RF procedures. Each guide is very well illustrated and provides detailed information on surgical methodology, including specific surgical steps and operation of RF equipment. These monographs are published by Diros Technology and provided to our customers free of charge as part of our commitment to education in radiofrequency medicine.
Manual of RF Techniques (3rd Edition, 2011)
by Charles A. Gauci, MD, FRCA, FIPP, FFPMRCA
Now in its third edition, Dr. Gauci's Manual is a "how to do it" radiofrequency handbook that concentrates on the essentials of widely used RF pain management procedures, including facet denervation, PRF of the DRG, sympathetic RF, facial RF, RF cordotomy, and peripheral nerve RF. The text is reduced to a bare minimum and is accompanied by a series of clear illustrations. Spring-bound, laminated, and supplied with a waterproof pen, the manual can be taken into the operating theater when performing procedures. This edition contains guest chapters from several big names in interventional pain management: Professor Alex Cahana, Professor Phillip Finch, Professor Eric Cosman Sr., Dr. Eric Cosman Jr., Professor Miles Day, and Dr. Olaf Rohof.
Active in pain management since 1979, Dr.Gauci is Lead Consultant in pain management at Whipps Cross University Hospital, London; an Honorary Consultant in pain management at Guy's & St. Thomas' Hospital, London, UK; and a Visiting Consultant in pain management to the Ministry of Health in Malta. He is also Honorary Secretary of the World Institute of Pain (WIP), a Trustee of the WIP Foundation, and an examiner for the FIPP Diploma.
The Manual of RF Techniques is published by CoYoMe BV.
Request a Copy
Request a Copy: Manual of RF Techniques (3rd Edition, 2011)
Radiofrequency Part 1 & 2
by Prof. Dr. Menno E. Sluijter
Request a Copy
Request a Copy: Radiofrequency Part 1 & 2 Prof. Dr. Menno E. Sluijter *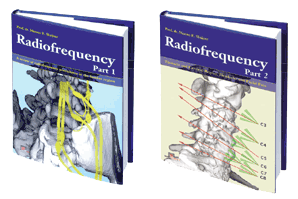 Premier distributor of pain management products and publisher of medical textbooks