The Cosman G4 radiofrequency generator independently and automatically controls up to four electrodes at once, in monopolar or bipolar mode, with  thermal RF or pulsed RF (PRF) output.  Multiple independent supplies and patent-pending multi-ouptut technology.
With a 12-inch touch screen, wireless remote, patient and doctor presets, electronic record keeping, automatic stagger start, automatic stimulation, your choice of a graphing or "one touch" interface, and large color-coded displays, the G4 is simply the most advanced RF generator ever built.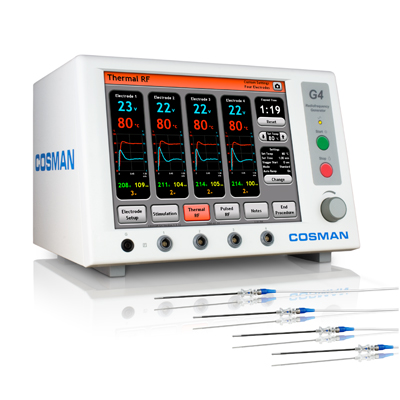 Superior power, safety, and ease of use with these features:
Four-electrode monopolar and bipolar configurations.
An intuitive 12-inch touch screen.
Automatic control of both RF and stimulation output.
Saved procedure settings.
Electronic records.
USB data export and printing.
Wireless remote control.
Dynamic graphing and large color-coded displays.
English, Spanish, French, and other language options.